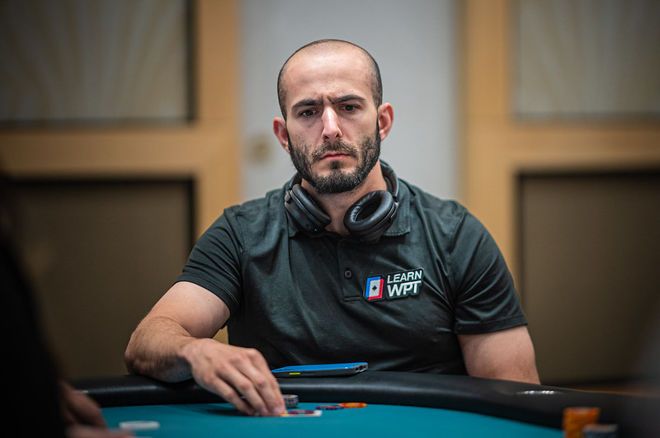 Yah, itu tidak butuh waktu lama. Sebelum para pemain melakukan istirahat pertama mereka di acara Tur Utama World Poker Tour (WPT) senilai $3.500 di Seminole Hard Rock Tampa, jaminan $1 juta telah terlampaui.
Juara bertahan Brian Altman, yang memenangkan acara ini pada Juni 2021 seharga $613.225, acara WPT pertama yang diselenggarakan di ruang kartu Central Florida, memulai awal yang sangat kuat.
Altman, salah satu juara WPT tiga kali yang langka, adalah penghancur mutlak di negara bagian Florida. Mantan Pemain Tur Poker Dunia Tahun Ini adalah satu-satunya pemain yang telah memenangkan tiga acara WPT di negara bagian yang sama. Dia juga mengalahkan Lucky Hearts Poker Open di Hollywood, Florida pada 2015 dan 2020.
Pada hari Kamis sore, penduduk asli Massachusetts melompat keluar dari gerbang lebih awal, mengubah tumpukan awal 50.000 chipnya menjadi 80.000 dalam hitungan saat, sebagian besar berkat pot yang cukup besar yang ia menangkan dengan flush jack-high melawan sesama anggota WPT Champions Club. Mark Davis.
Altman berusaha menjadi juara Tur Poker Dunia empat kali kedua. Darren Elias, yang juga memasuki sesi Hari 1a, memegang rekor (bersama dengan rekor WPT terbanyak).
Itu Tidak Butuh Waktu Lama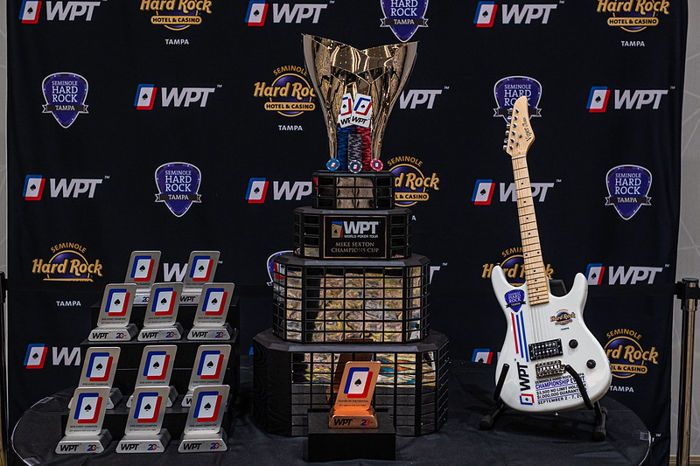 Satu pemain akan memenangkan trofi epik ini.
Dengan 313 entri, sekitar 90 menit pertama dari dua penerbangan awal Hari 1, Direktur Tur Eksekutif WPT Matt Savage mengumumkan kepada penonton bahwa jaminan $1 juta telah tercapai. Kurang dari satu jam kemudian dan 50 pemain lainnya telah mendaftar.
Jadi, seberapa besar hadiah yang akan didapat? Pada kecepatan saat ini, ada kemungkinan besar itu bisa mencapai $ 3 juta, dan bahkan mungkin melampauinya. Pada tahun 2021, Altman memenangkan bagian terbesar dari kumpulan hadiah $ 3.728.000. Pendaftaran tetap dibuka di Acara Utama WPT Seminole Hard Rock Tampa hingga dimulainya Level 9 pada hari Jumat.
Savage mengatakan kepada PokerNews bahwa dia mengharapkan lapangan untuk memecahkan 1.000 pemain, yang akan menempatkan kumpulan hadiah lebih dari $ 3,2 juta. Turnamen dimulai Kamis kurang dari satu hari setelah kesimpulan dari WPT Legends of Poker yang sukses di Parkwest Bicycle Casino di Los Angeles, dimenangkan oleh Joshua Pollock seharga $573.350.
Beberapa pemain yang berlaga di ajang Legends of Poker, yang diikuti 642 peserta, kemungkinan besar baru saja berangkat ke Florida untuk mengikuti ajang Seminole Hard Rock. Dengan pendaftaran pada kecepatan untuk memiliki 500 atau lebih pemain pada Hari 1a, tampaknya Savage mungkin tepat dengan prediksinya. Pada saat penerbitan, sudah ada lebih dari 380 pemain di lapangan.
Turnamen ini dijadwalkan berakhir pada 7 September dengan tabel final enam pemain. Merayakan musim ke-20, World Poker Tour memiliki beberapa acara besar di sisa tahun ini, yang mencakup Kejuaraan Dunia WPT Wynn yang bersejarah pada bulan Desember, turnamen pertama yang dijamin senilai $15 juta dalam sejarah poker langsung.
Lihat Hub WPT di PokerNews di sini!
Foto milik Drew Amato/WPT