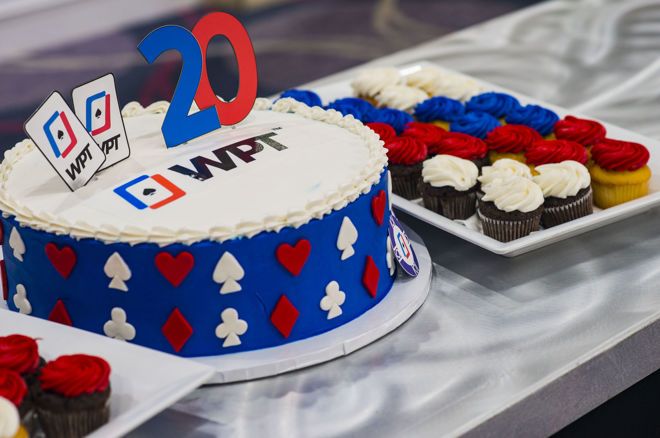 World Poker Tour (WPT) merayakan Musim 20 sepanjang tahun, tetapi Legends of Poker berhenti di Parkwest Bicycle Casino adalah tempat khusus di kalender. Tahun ini juga menandai kembalinya "The Bike" secara emosional untuk pertama kalinya sejak COVID melanda pada tahun 2022.
Sebagai salah satu kasino asli di musim pertama WPT, The Bike adalah orang yang percaya pada visi WPT.
"Jika Anda kembali dua dekade lalu, ada sekelompok kasino yang mengambil risiko besar pada sesuatu yang disebut Tur Poker Dunia," kata Chief Executive Officer WPT Adam Pliska saat perayaan selama istirahat pertama pada Hari 1c. "Di sinilah kita, 20 tahun kemudian di fasilitas yang luar biasa ini. Beberapa juara terhebat kami datang dari acara ini, dan Anda dapat melihatnya di dinding."
CEO WPT Adam Pliska menyambut para pemain di Hari 1c dari 2022 WPT Legends of Poker – Foto milik Joe Giron/WPT
Beberapa dari nama-nama di dinding termasuk legenda poker seperti Doyle Brunson, yang memenangkan acara tersebut pada tahun 2004. Spanduknya digantung mencolok di bagian awal lorong tepat sebelum pemain berbalik untuk masuk ke area turnamen.
Spanduk Mel Judah tergantung di dekatnya dan itu memperingati kemenangannya pada tahun 2003 di WPT Legends of Poker kedua yang pernah diadakan. Kiri dari Yehuda adalah Chris Karagulleyan, yang kemenangannya datang di musim perdana WPT. Karagulleyan memenangkan $258,000 pada tahun 2002 dan hadiah utama meroket menjadi hanya di bawah $1,2 juta ketika Brunson memenangkannya dua tahun kemudian.
20 Tahun Pemenang di WPT Legends of Poker
YearEntry FeeWinnerEntrantsPrize PoolTop Prize2002$5,000Chris Karagulleyan134$583,380$258,0002003$5,000Mel Judah309$1,545,000$579,3752004$5,000Doyle Brunson667$3,335,000$1,198,2602005$5,000Alex Kahaner839$4,195,000$1,151,9002006$10,000Joe Pelton466$4,520,200$1,602,6702007$10,000Dan Harrington485$4,607,500$1,599,8652008$10,000John Phan373$3,520,738 $1,116,4282009$10,000Pharlad Friedman279$2,625,000$1,009,0002010$5,000Andy Frankenberger462$2,151,072$750,0002011$3,700Will Failla757$2,570,015$758,0852012$3,700Josh Hale622$2,111,690$500,0002013$3,700Jordan Cristos716$2,430,820$613,3552014$3,700Harry Arutyunyan593$2,172,994$576,3692015$3,700Mike Chariati786$2,630,349$675 ,9422016$4,000Pat Lyons687$2,465,643$615.3462017$4,000Seni Papazyan763$2,738.407$668.6922019$5.000Aaron Van Blarcum520$2.392.000$474.3902022$5.250 642$3.113.700$573.350
Kembali ke normal
Ulang tahun ke-20 WPT dirayakan dengan kue, dan Mo Fathipour dari Parkwest Bicycle Casino membelikan makan malam untuk kamar tersebut. Reuni adalah waktu yang lama untuk para pemain dan staf yang telah datang ke Legends of Poker selama dua dekade.
"Sangat menyenangkan melihat semua wajah yang sudah lama tidak saya lihat di The Bike," kata Direktur Eksekutif Tur WPT Matt Savage saat menyambut para pemain di penerbangan ketiga dan terakhir. "Acara seperti ini tidak akan terjadi tanpa staf legendaris di sini. Tim manajemen di sini tidak ada duanya. "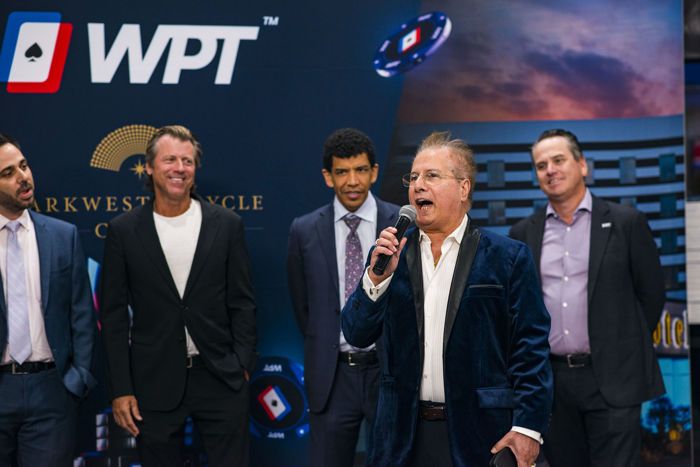 Mo Fathipour membeli makan malam untuk kamar – Photo Courtesy of Joe Giron/WPT
Setelah WPT Legends of Poker edisi 2022 selesai, tur akan langsung menuju ke Florida untuk WPT Seminole Hard Rock Tampa pada 2 September.
Pastikan untuk menyimpannya dengan PokerNews untuk liputan WPT Legends of Poker lainnya, dan bergabunglah dengan kami di Tampa akhir pekan ini dari Seminole Hard Rock untuk aksi Tur Poker Dunia lainnya.
Sisa Jadwal WPT Musim 20
TanggalAcaraBiaya MasukLokasi2-7September Seminole Hard Rock Tampa$3,500Seminole Hard Rock Hotel & Casino Tampa23-27September Australia$5,400 AUDThe Star Gold Coast19-23 Oktober Five Diamond World Poker Classic$10,400 Bellagio Resort and Casino25-30WPT Seminole Rock 'N' Roll Poker $3,500Seminole Hard Rock Hotel & Casino HollywoodKejuaraan Dunia 12-18WPT Desember di Wynn Las Vegas$10,400Wynn Las Vegas
Foto fitur milik Joe Giron/WPT

Eksekutif Pelaporan Langsung Matt Hansen
Eksekutif Pelaporan Langsung PokerNews yang berbasis di Las Vegas, berasal dari Chicago, IL