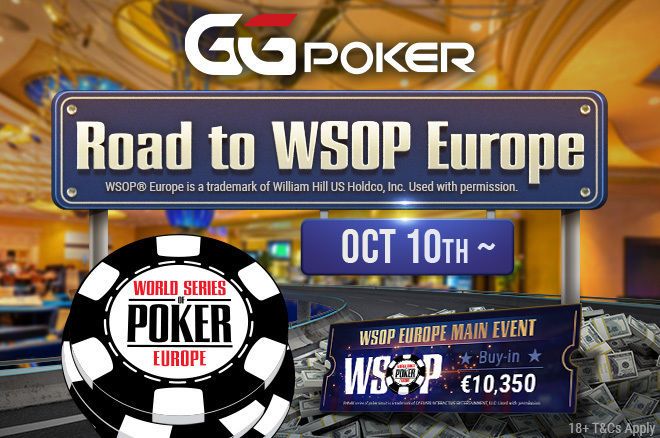 Mulai hari ini, GGPoker akan menjadi tuan rumah turnamen poker online Road To World Series of Poker (WSOP) Eropa, kesempatan bagi pemain untuk lolos langsung ke Acara Utama Eropa 2022 WSOP. Acara Utama buy-in WSOP Eropa €10.350, yang menawarkan jaminan €5 juta, akan dimulai pada 11 November di King's Resort yang mewah di Rozvadov, Republik Ceko.
Mulai hari ini, turnamen satelit WSOP Eropa 2022 akan berjalan di GGPoker dengan pembelian ke turnamen satelit langsung mulai dari €250, dan pembelian ke satelit langkah mulai dari €25, menurut pengumuman dari GGPoker.
"WSOP Eropa adalah acara langsung paling bergengsi di benua itu, dan kami dengan senang hati memberi pemain kesempatan untuk merebut tempat mereka di Acara Utama yang dijamin €5 juta melalui Jalan menuju WSOP Eropa," John Scanlon, Direktur Acara Langsung & Sponsor di GGPoker, mengatakan dalam siaran pers. "Kami mengharapkan pasukan GGPoker besar untuk sampai ke King's Resort untuk ini, dan berjuang untuk emas dan kemuliaan!"
Menangkan Kursi ke Acara Utama WSOP Eropa
Satelit berarti bahwa pemain akan memiliki lusinan peluang setiap hari untuk memenangkan kursi ke acara bergengsi € 10.350 hanya dengan € 25, memberi para amatir dan pemain dengan bankroll ringan kesempatan untuk mengejar kejayaan WSOP.
Sementara GGPoker belum masuk ke pasar poker online AS, satelit akan menjadi peluang besar bagi pemain di Kanada, Eropa, dan Asia.
Festival WSOP Eropa akan berlangsung 26 Oktober-November. 16 akan menampilkan 15 acara gelang emas dan, seperti banyak acara langsung lainnya tahun ini, diharapkan akan menarik banyak bidang.
WSOP Eropa
Jadwalnya mencakup acara yang terjangkau untuk berbagai bankroll, dengan pembelian mulai dari €350 hingga €50.000. Setiap turnamen memiliki kumpulan hadiah yang dijamin, dan seluruh seri menjamin setidaknya €12 juta akan diperebutkan.
Tahun lalu, Josef Gulas Jr dari Republik Ceko mengalahkan Johan Guilbert dari Prancis untuk memenangkan Acara Utama Eropa WSOP 2021 seharga € 1,3 juta. Acara ini menarik 688 pelari yang memecahkan rekor untuk menghasilkan kumpulan hadiah sebesar €6,5 juta.
Pemain GGPoker baru berhak untuk mengklaim Bonus Selamat Datang di ruang poker dan mendapatkan hadiah dengan promosi Bulan Madu untuk Pendatang Baru. Selain itu, pemain baru secara otomatis bergabung dengan program loyalitas Prasmanan Ikan GGPoker, yang menawarkan hadiah uang tunai reguler.
Untuk informasi lebih lanjut tentang Road to WSOP Europe 2022, kunjungi http://en.ggpoker.com/tournaments/road-to-wsope-2022.
PN Podcast: Poker Masters Wraps, Drama HCL & Klub Tamu Duta Besar GG Kyna Inggris