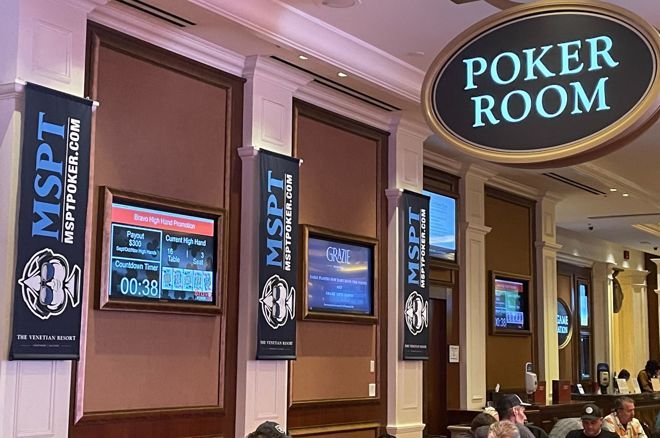 Mid-States Poker Tour (MSPT) akan kembali ke Las Vegas pada bulan November untuk tidak hanya satu, tetapi dua acara, keduanya dengan kumpulan hadiah besar yang dijamin untuk diperebutkan.
Tim pelaporan langsung PokerNews akan berada di tempat untuk memberikan pembaruan berkala dari awal hingga akhir selama kedua acara, dimulai dengan Acara Utama $1.100, yang berlangsung 1-3 November. Acara yang dijamin $ 250.000 itu akan diikuti oleh Acara Utama MSPT senilai $ 1.600 di Venetian 3-6 November, dan yang ini menjanjikan setidaknya $ 750.000 hadiah uang untuk diberikan.
Detail Turnamen
Mulai 1 November, Venetian di Las Vegas memulai seri Deepstack Extravaganza Poker lainnya yang populer, dan seri yang dijamin senilai $3,2 juta dimulai dengan dua acara Mid-States Poker Tour.
Setiap turnamen MSPT menampilkan dua penerbangan awal Hari 1 mulai pukul 11:10. Pemain dapat mendaftar untuk kedua sesi jika mereka tidak mengantongi tumpukan pada Hari 1a. Ada satelit mega $200 setiap hari yang tersedia di Venetian untuk memberi pemain kesempatan untuk masuk dengan harga murah. Kedua turnamen akan bermain untuk pemenang pada Hari 2.
Struktur turnamen adalah sebagai berikut: 25.000 chip awal dan level blind 40 menit di turnamen $1.100 dan 30.000 chip awal dengan level blind 40 menit di turnamen $1.600. Pemenang setiap acara akan membawa pulang piala bergengsi dan koin emas Venesia yang mengkilap.
MSPT Masa Lalu dan Masa Depan
Bulan Oktober telah menjadi bulan yang sibuk bagi MSPT, dengan dua acara telah selesai dan satu yang dimulai pada hari Kamis di Riverside, Iowa (jaminan $300.000).
Awal bulan ini, Chris Burke mengalahkan MSPT Deadwood Shootout di Silverado-Franklin Casino di South Dakota seharga $89.725. Mid-States Poker Tour Hall of Famer Josh Reichard juga menempati posisi ketiga ($40.376) untuk naik ke posisi pertama dalam klasemen MSPT Player of the Year.
Pada 17 Oktober, Matthew Davis memenangkan $344.446 karena keluar sebagai pemenang di MSPT Main Event di Firekeepers Casino di Battle Creek, Michigan.
Datang setelah pemberhentian Venesia, MSPT akan menuju ke Columbus, Minnesota 1-11 Desember untuk Seri Klasik Poker Musim Dingin di Running Aces Casino. Kemudian kembali ke Venesia untuk mengakhiri tahun 2022 dengan Acara Utama senilai $1.100 lainnya pada 28-30 Desember.