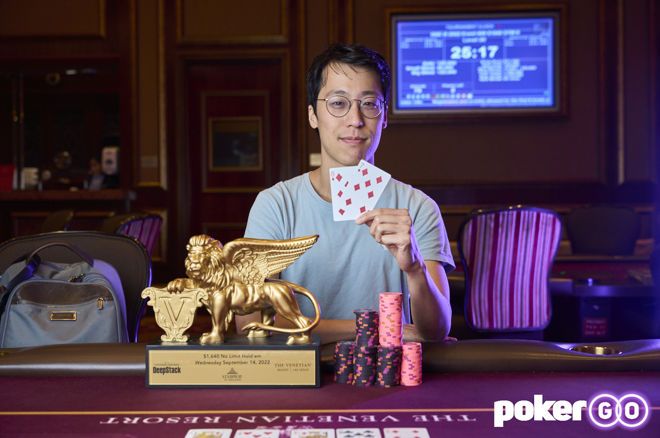 Michael Wang sedang mendaki Tangga PokerGO ke Jutaan di Venetian di Las Vegas saat ia mengalahkan Event #5: $1.640 No-Limit Hold'em pada 12 September seharga $22.986 sebelum memenangkan acara berikutnya.
Kemenangan di Event #6: $1.640 No-Limit Hold'em menghasilkan Vegas grinder $22.458 dan karir ketiganya gelar Stairway to Millions — menjadikannya pemain pertama yang mendapatkan penghargaan seperti itu. Pada bulan Januari, Wang menurunkan acara buy-in $15.800 di Stairway to Millions perdana di ARIA Resort and Casino pada bulan Januari seharga $219.300.
Baca tentang judul Stairway to Millions pertama Michael Wang!
Pertama yang Memenangkan Tiga Gelar
Stairway to Millions tahunan kedua, seri unik yang tidak hanya memberikan hadiah uang tunai kepada pemain, tetapi juga tiket ke acara pembelian yang terus meningkat, dimulai di Venetian Las Vegas pada 8 September dan akan berlangsung hingga 20 September.
Wang memulai pemanas baru-baru ini dengan melewati bidang 73 pelari di Acara # 5 yang termasuk Maria Konnikova, Victoria Livschitz dan Ryan Laplante, yang berakhir di posisi ketiga dengan $ 9.340, menurut pembaruan langsung PokerGO.
Wang kemudian mengalahkan lawannya, Mikael Andersen, yang membawa pulang $14.355.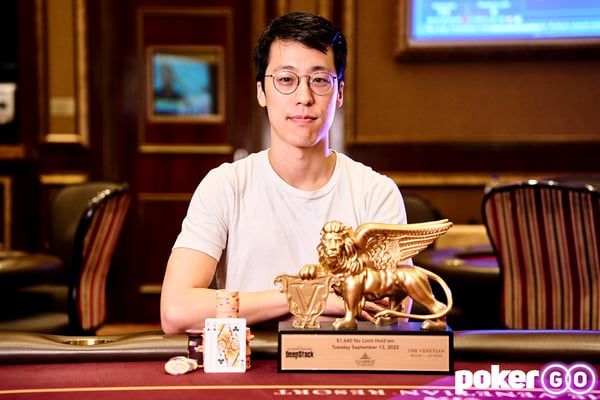 Michael Wang setelah memenangkan Stairway to Millions Event #5
Acara #5: Hasil Tabel Final Hold'em Tanpa Batas $1,640
PLACEPLAYERCOUNTRYPRIZE (IN USD) 1stMichael WangAmerika Serikat$22.986 2ndMikael AndersenAmerika Serikat$14.355 3rdRyan LaplanteAmerika Serikat$9.340 4thQing LiuAmerika Serikat$6.342 5thJosue AguirreMexico$4.502 6thCharles Capobianco Amerika
Dalam Event #6, Wang kembali membuat lari yang dalam dan melewati 75 peserta dan berakhir di meja final dengan pemain seperti Stephen Song, Kenny Huynh dan Brett Kennedy.
Wang akhirnya berhadapan dengan Freddy Heller, yang memegang keunggulan chip hampir lima banding satu atas Wang pada satu titik, menurut pembaruan PokerGO. Wang berhasil naik kembali dan menyingkirkan Heller untuk memenangkan gelar keduanya dari seri dan kursi kedua di Event #8: $5,350 NLH.
Acara #6: Hasil Tabel Final Hold'em Tanpa Batas $1,640
PLACEPLAYERCOUNTRYPRIZE (IN USD) 1Michael WangAmerika Serikat$22.458 2Freddy HellerAmerika Serikat$14.044 3Kenny HuynhAmerika Serikat$9.149 4Stephen SongAmerika Serikat$6.220 5Fred TadaAmerika Serikat$4.422 6Brett KennedyAmerika Serikat$3.293
Dengan kemenangan tersebut, Wang, yang kini memiliki $4,5 juta dalam pendapatan Hendon Mob yang dilaporkan, menjadi pemain pertama yang memenangkan tiga gelar Stairway to Millions.
Selain itu, ia menjadi pemain ketiga yang memenangkan gelar berturut-turut dalam seri PokerGO baru, bergabung dengan Chance Kornuth, yang memenangkan Event #2 dan Event #3 di Stairway to Millions tahunan pertama pada bulan Januari, dan Nick Petrangelo, yang memenangkan dua acara terakhir dari seri itu.
Pemenang lainnya
Serial ini dimulai pada hari Kamis, 8 September dengan Acara #1: $460 NLH, sebuah turnamen yang menarik 93 pelari dan menawarkan kumpulan hadiah $37.200. Francis Anderson keluar sebagai pemenang untuk memenangkan $6.702 ditambah tiket $1.640 untuk bersaing di Event #5 atau #6.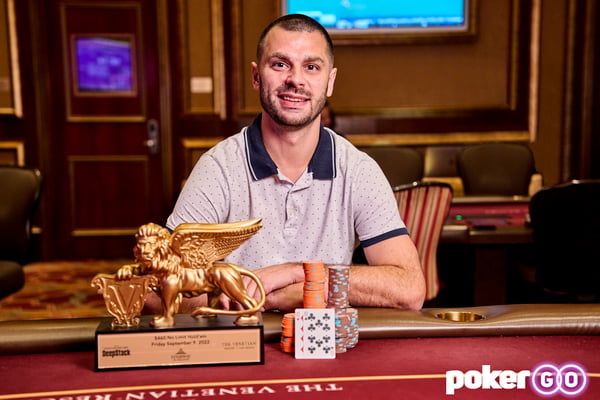 Francis Anderson
Anderson, yang awal musim panas ini finis ketiga di Event #21: $1.500 Monster Stack No-Limit Hold'em di World Series of Poker (WSOP) 2022 untuk karir terbaik $449.912, hampir saling bersaing di Event #2 : $ 460 NLH, akhirnya menyelesaikan runner-up di bidang 94-entri ke John Yelaney, yang menangkap hadiah utama $ 6.417.
Menempati posisi ketiga dalam turnamen itu adalah Arsh Grover dari India, yang berbalik ke kanan dan mengalahkan 82-entry field untuk memenangkan Event #3: $900 NLH seharga $12.510. Sementara itu, di Acara #4: $900 NLH, juara Tim Tag WSOP 2020 Samy Dighlawi menavigasi jalannya melalui bidang entri 74 untuk memenangkan hadiah utama $11.330.
Daftar lengkap pemenang Stairway to Millions sejauh ini tersedia dalam tabel di bawah ini.
Tangga Menuju Jutaan Pemenang Sejauh Ini
DATEEVENTRANTSPRIZE POOLWINNERPRIZE (IN USD) Kamis, 8 SeptemberAcara #1: $460 NLH $25K GTD93$37.200Francis Anderson$6.702 Jumat, 9 SeptemberAcara #2: $460 NLH $25K GTD94$37.600John Yelaney$6.417 Sabtu, 10 SeptemberAcara #3: $900 NLH $50K GTD82 $65.600Arsh Grover$12.510 Minggu, 11 SeptemberAcara #4: $900 NLH $50K GTD74$59.200Samy Dighlawi$11.330 Senin, 12 SeptemberAcara #5: $1.640 NLH73$109.500Michael Wang$22.986 Selasa, 13 SeptemberAcara #6: $1.640 NLH75$112.500Michael Wang$22.458
Lebih Banyak Acara Akan Datang
Masih ada beberapa judul Stairway to Millions untuk diperebutkan, termasuk dalam Acara #7 yang sedang berlangsung saat ini: $2,740 NLH dan Acara #8: $5,350 NLH.
Taruhannya akan menggandakan turnamen yang tersisa hingga acara final pada 19 September, yang akan membuat para pemain menyiapkan $52.000 untuk mendapatkan hadiah yang dijamin senilai $600.000.
Jadwal yang tersisa di Stairway to Millions tahunan kedua tersedia dalam tabel di bawah ini.
Stairway to Millions Sisa Jadwal
ACARA TANGGAL Rabu, 14 SeptemberAcara #7: $2,740 NL Hold'em ($100,000 GTD) Kamis, 15 SeptemberAcara #8: $5,350 NL Hold'em ($100,000 GTD) Jumat, 16 SeptemberAcara #9: $10,400 NL Hold'em ($200,000 GTD) Sabtu , 17 SeptemberAcara #10: $16.800 NL Hold'em ($300.000 GTD) Minggu, 18 SeptemberAcara #11: $26.000 NL Hold'em ($500.000 GTD) Senin, 19 SeptemberAcara #12: $52.000 NL Hold'em ($600.000 GTD)
Foto milik PokerGO