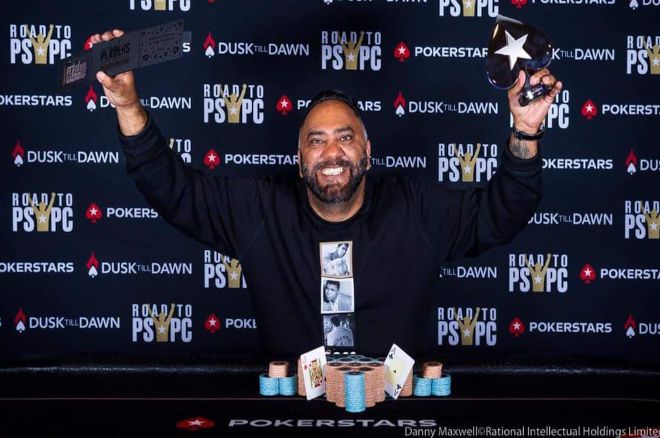 Waheed "Wadey" Ashraf menuju ke 2023 PokerStars Players Championship (PSPC) setelah mendapatkan Platinum Pass senilai $30.000 di acara Road to PSPC di Dusk Till Dawn, Nottingham. The Dusk Till Dawn Hall of Famer keluar di atas bidang 449-kuat di turnamen buy-in £ 340, memenangkan hadiah uang tunai £ 16.380 ditambah Platinum Pass tambahan yang sangat penting.
Tahun yang cukup panjang bagi pria yang akrab disapa Wadey ini. Ashraf memulai 2022 dengan finis ketiga di Acara Utama GUKPT Coventry £1.000 senilai £39.600. Dia memenangkan €250 buy-in The Hendon Mob Championship di 2022 Irish Open pada bulan April seharga €10.825, dan mengikutinya dengan kemenangan di £560 PartyPoker Championship Nottingham Main Event di Dusk Till Dawn seharga £66.271.
Dusk Till Dawn mengakui kesuksesan Ashraf yang berkelanjutan di klub – tidak ada anggota DTD lain yang menguangkan lebih banyak turnamen daripada Ashraf – dengan mengabadikannya di Hall of Fame klub. Ashraf sekarang akan mengibarkan bendera Dusk Till Dawn di PSPC 2023 di Bahama.
PokerStars Meluncurkan Promosi Mesin Tiket PSPC Bernilai
Jalan menuju Hasil Tabel Final PSPC Nottingham
PlacePlayerHadiah1Waheed Ashraf£16,380*2Nigel Hannan£21.560*3Artin Bazazi£18,905*4Gary Miller£13,635*5Anonim£15.820*6Gereja Matthew£5.5007Orlando Anderson£4,0008Martyn Frey£3,0009Chris Doran£2,500
*mencerminkan kesepakatan lima tangan
Enam puluh delapan dari 449 starter berkembang ke Hari 2 dan mengunci setidaknya £ 600 untuk upaya mereka. Orang-orang seperti Tamer Kamel, Daniel Trett, Bash Mahmood, Paul Vas Nunes, Tom Bacon, pemenang gelang WSOP Ben Dobson, dan Ilana Belsky masing-masing menguangkan tetapi melewatkan penampilan meja final.
Chris Doran menavigasi jalannya ke meja final tetapi waktunya di sana berumur pendek karena dia berada di urutan kesembilan untuk £ 2.500, skor langsung terbesar dalam karirnya.
Martyn Frey mengambil pendapatan turnamen poker langsungnya melewati tanda $ 720,00 dengan meraup hadiah tempat kedelapan £ 3.000, sebelum Orlando Anderson tersingkir di posisi ketujuh untuk tambahan £ 4.000 untuk uangnya. Para finalis mendapatkan sedikit ruang siku ekstra ketika Matthew Church tersingkir di tempat keenam, penyelesaian yang bagus untuk £ 5,500.
Dengan lima pemain tersisa, kesepakatan dibuat yang membuat lima pemain terakhir aman antara £13.635 dan £21.560 untuk investasi £340, meninggalkan Platinum Pass senilai $30.000 untuk diperebutkan.
Seorang pemain anonim rusak di kelima untuk £ 15.820 sebelum juara UKIPT Nottingham High Roller baru-baru ini Gary Miller membersihkan tumpukannya di tempat keempat dan berjalan pergi dengan £ 13.635 untuk menunjukkan usahanya.
Tempat ketiga dan £18.905 jatuh ke Artin Bazazi, yang merupakan skor lima angka pertamanya, dan membuat Ashraf berhadapan dengan Nigel Hannan. Ashraf memanfaatkan pengalamannya yang luas untuk mengalahkan Hannan dan mengamankan Pass Platinum senilai $30.000 selain pembayaran £16.380; Hannan mengumpulkan karir tertinggi £ 21.560.
Cara Memenangkan Platinum Pass Kejuaraan Pemain PokerStars; Detail Mega Path dan Road to PSPC
Ashraf Menuju Bahama
Platinum Pass Ashraf senilai $30,000 yang dimenangkan memberinya kesempatan gratis dalam acara PokerStars Players Championship (PSPC) senilai $25.000, yang merupakan bagian dari PokerStars Caribbean Adventure 2023. Ashraf menuju Bahama dengan membawa paket berikut:
Beli-in ke akomodasi hotel $25.000 PSPCSix malam untuk pemenang dan tamu di hotel bintang 5Transfer bandaraUang biaya $1.900Pengalaman Pemenang Platinum Pass selama acara
PSPC perdana berlangsung pada Januari 2019 dan melihat 1.039 pemain membuat kumpulan hadiah $26.455.500. Pemenang Platinum Pass Spanyol Ramon Colillas adalah orang terakhir yang berdiri di acara tersebut dan melihat $ 5.100.000 masuk ke uangnya.
Edisi PSPC mendatang dibatalkan karena pandemi COVID-19, tetapi PokerStars menghidupkan kembali acara luar biasa ini sebagai bagian dari PokerStars Caribbean Adventure (PCA) yang kembali.